Call Center Solution
Grow Your
business

and build customer lifetime value
We'll assist you to uncover opportunities to upgrade customer experience, build brand loyalty and increase sales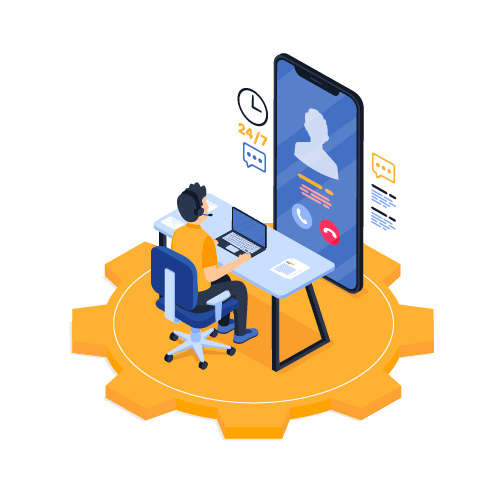 We customize price and plan as per your business needs
We guarantee your business will never miss a call
Toll Free Service has evolved as an essential service in modern telecommunication around the world. It is a service in which the caller does not pay for the call rather the called party or a 3rd party pays for the call.
// Call Center Features
Features of Call Center
You can use multiple virtual receptionists for your business.
Several greetings, off-day information, special day & special offer information, a voice recording will be available for your business.
Get a handy feature to manage organizational calls easily.
Build up client loyalty using auto call distribution capabilities to forward the calls to office extension, Skype, or personal mobile.
Get a handy feature to oversee business calls without any problem.
If your expansion is occupied or not accessible, you can forward or transfer your business call to our smartphones or home telephones.
A full-time assistant is not required at this point.
With the virtual assistant component, you can coordinate a steady robotized voice for your brand and never miss a lead.
Deliver the best solution to all the callers with call transfer features.
You can easily transfer a progress call to other departments or agents. The client will be more satisfied.
Multiply profits fast with intelligent call directing.
Users can customize routing patterns based on various elements to guarantee each call reaches the right destination.
Build up a corporate professional brand.
Users can customize on-hold music as the next campaign theme or brand's to utilize it as a lead opportunity.
Every customer of yours will get a prompt response with a refined and dynamic load balancing strategy that instantly directs the call to an available specialist.
Upgrade customer loyalty, increase client retention rates and call handling capabilities using an automated call back system for your business.
Get a fast, flexible, secure, and quality solution to connect any number to team members on the same voice call anywhere, anytime. Internally it's free of cost.
Guarantee you never miss out on critical information on any business call.
All calls are auto-recorded and stored on the secured hard disk.
We customize price and plan as per your business needs
// Benefits
Benefits Of Call Center
Different Channels, a Single View of the Customer.
All the data would be open to the helping specialist at any channel, and the client would get the best help at each touch-point.
This single perspective on the client makes support more proficient and gives better client investigation results by understanding client inclinations and conduct in a top to bottom way.
Upgraded Brand Image
Contact focuses are not only for noting inbound calls made by the clients any longer.
Proactively noting client remarks at all the touch-focuses and monitoring client opinion adjustments can go far in making a brand picture that you might want for your business.
Prevalent Customer Engagement
Effective client commitment is the main need of the multitude of associations.
Opening up every one of the channels of correspondence with your clients and proactively being a piece of the exchange is the initial move towards client commitment, consumer loyalty, and steadfastness. This should be possible just through a multi-channel client care contact focus.
Quicker Support
The critical quality of the present multi-channel clients is that they are restless and need moment satisfaction.
They hop from one channel to another without breaking a sweat and anticipate that the businesses should do as such too. By being accessible at all the client contact focuses, organizations can ensure that they can stop most client issues from the beginning.
They can offer moment support through live talk, give quick answers to messages, give educated answers via web-based media locales, etc. If there were a voice call, the specialist would approach the previous client's conduct and history to offer quicker and wise help.