eFax Solution
Online
fax

make your life easy
There is no reason to print, sign, scan and send back.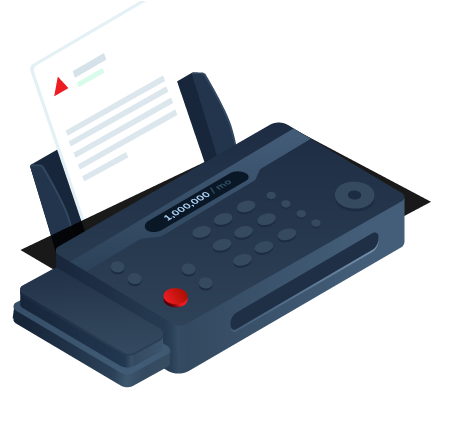 Send & Receive faxes online, email, or app, using your any electronic device.
Sign your faxes or any file in your emails and send it back with a touch of a button. Supports both the sending and receiving of online faxes. It boasts a user-friendly interface on the web and an easily navigated mobile application that is free of charge to account holders. Sign your faxes or any file in your emails and send it back with a touch of a button.
// efax Features
Features of eFax
With large file sharing, users can easily fax and share files that would otherwise be too large to emails, like presentations, videos, and images.
Share files with up to 20 beneficiaries at once.
Securely store and effectively access all inbound and outbound faxes online for the existence of your record.
Tag your faxes with keywords for easier inquiry and recovery.
When you upgrade to enhanced security, you will no longer directly receive faxes in your email.
For maximum security, inbound faxes are encoded and facilitated on a protected site.
Two signing options for your electronic faxes: sign your faxes online by swiping your finger across the screen of your mobile device, or drag and drop a "saved" signature onto your fax archive.
Presently you can be more effective; fax online from any place and close the deals on the go. Tap on the app to receive, sign and send online faxes right from your phone or tablet.
If you have a question, the iPBX Customer Support has your answer.
Learn about the setup process, send and receive faxes, change account preferences, billing information, and more.
// efax
Benefits of eFax Using IPBX Phone
ENTERPRISE READY
We cover the unique prerequisites of little to medium organizations as well as large enterprises.
Some of our enterprise features include a corporate admin panel for multiple numbers and users, implementations, rigorous security, G Suite and Slack integration, and the ability to transmit high-volume faxes.
KEEP YOUR CURRENT FAX NUMBER (PORTING)
If you already have a fax number from another provider, you can transfer that number to iPBX with no downtime and benefit from all the best online fax service features.
Your client will fax you on your old fax number but now experience greater reliability on your fax reception.
MORE THAN MILLON PAGES FAXED MONTHLY
Our high-performing, multi-tier faxing infrastructure allows large enterprises to transmit high-volume faxes in no time easily.
You can benefit from concurrent fax transmissions and an extensive feature set that includes scheduled faxing, contacts import, detailed reports, automatic retries for failed faxes, and much more.
SWISS GRADE SECURITY + HIPAA COMPLIANCE
At iPBX, our top priority is the privacy and security of our customers' data.
Strict security controls that allow us to comply with PCI, HIPAA, and that's just the beginning.
Swiss organization gives every one of our clients' information protection of strict Swiss privacy laws.
EXCEED YOUR DATA RESIDENCY REQUIREMENTS
You can store your faxes along with their backups in the same data center or different data centers.
Regardless of the data center location, all faxes and their backups will be stored fully encrypted using 256-bit Advanced Encryption Standard (AES).
FLEXIBLE PRICING
If the basic plan doesn't meet all your requirements, you can always upgrade to our extended plans at any point in time.
SIGN DOCUMENTS WITH EASE
Sign your faxes or any file in your emails and send it back only with a touch of a button; no reason to print, sign, scan and send back.