SMS Marketing
Engage your customer with
text messages
Research show customer is more responsive on their cell phone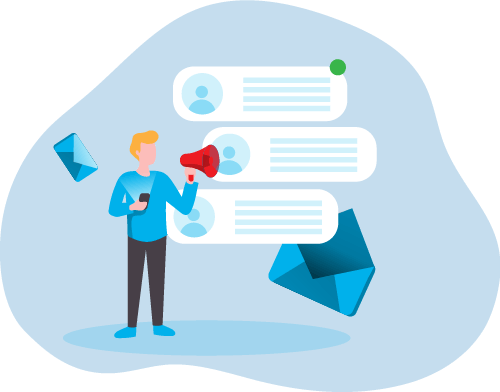 We customize price and plan as per your business needs
Text message is perhaps the simplest method of communication
If it's necessary to sell your products or promote your brand our SMS marketing platform makes it easy to create SMS campaigns that best suit your message. Choose the right SMS Marketing Service Provider. It helps your business to cuummunicate fast and secure .
// SMS
Benefits of Text Messages
High open rates
SMS or text has the highest open rates when compared to regular phone calls or email marketing.
98% of the text messages sent are opened, making SMS marketing a boon to all enterprises seeking quick and effective customer service.
High conversion rate
Indeed, with the high usage of instant texting via apps, SMS still witnesses a better conversion rate.
People are bound to visit your business and take action on promotions or offers shared through text messages than via any other marketing service.
Inexpensive
Cloud messaging services make SMS marketing a highly cost-effective option.
Cloud telephone providers offer Bulk SMS options via SMS API or their platform, allowing the organization to contact many customers in a few steps.
Large reach
With the increase in smartphone usage, Statista reports that in 2018, 52.2% of all online traffic was generated through cell phones worldwide, making TEXT/SMS marketing the choice of communication for many businesses.
Instant delivery
A good Cloud telephone provider has solid organization administrator connections across the world.
This organization administrator relation can be of great use when businesses want to deliver time-bound one-time passwords.
Campaign success visibility
Building an advanced platform for the audience through a technical sound platform has become the need of the hour.
It gives businesses insights into their reach, helps them plan their SMS marketing strategies, and reaches the right audience.
We customize price and plan as per your business needs